The time came (at last!) to put everything together and stuff it into the tiny speaker box.
It barely fit, but I managed to get the back on with *some* force hehe. I hooked up the speakers, and some inputs from my mixer board, flicked it on and everything worked, no smoke!!
I've never heard my tower speakers sound so good, ever. Finally they have some "real" power to boom it out. Right away (while listening to a somewhat loud DJKJ mix) I started to make a FL Studio Dashboard to test the MIDI stuff.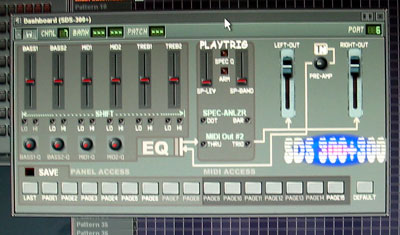 I played with it all afternoon then took it over to show off to the neighbors (as they contributed some stuff right?) I'm happy! Much better than just buying stuff.
That said, I now have realized I need to pull it apart and fix / change / add a few things:
1) Flip the speaker +/- around! I forgot I had inverted the signal with the 4560 op-amps!
2) Make a MIDI-Thru "power off" bypass. Sometimes I want MIDI after the amp without turning
it on. It's pretty late in the chain: Korg, Casio Synth, Strip-Lights, SDS300+300, LightBar,
Light16... but sometimes I just want the lights and my little 'puter sspeakers.
3) After making the "Dashboard" pictured above, I realized that when I change an EQ page, the
buttons on the bottom, the EQ sliders don't update! Well how could they right? I do have
them linked to my UC-33 MIDI controller's page 2, but need to output position updates too.
Luckily, FL Studio allows any number of controllers to control a single knob.
4) I want to add a MIDI-controlled "power-down" that will both power down with a MIDI note
and if there's no level on the spectrum analyzer for X hours. A standby I suppose.
This of course means a "power up" upon receiving an EQ page selection!
5) Need to get some labels or lettering, this came out nicer than I thought and using a paint pen
just seems like an injustice!
Well there you go! It was a bit of a hair puller, but it's my new baby, and I'm sure it'll be
rockin' the island this summer! Yaaaa!
There's a zip download below that includes the .asm, the owners manual and schematics + info.
Cheers!