Here's the final schematic, and the board corrections have been updated above.
There were a number of changes made to the board, the program, and even the User Manual. In the circuitry, there were changes to:
-The Mic Amp: A dynamic mic just didn't do the lows ( I forgot not all mics are $350 mics!)
The new mic is a standard FET electrohet style, like one from a cell phone. They have a fantastic
dynamic range (ha ha) and I found if I really powered it hard with a 1.5K resistor, it doesn't
distort even with everything really cranked up.
The front amp was removed, and a back amp, after the Low-Pass, was added on. (Spare Op-Amp)
-The Flash EEPROM's SDi & SDo were backwards, so those are noted on board, and a 3.8V zener
diode was added across the EEPROM supply for safety. The EEPROM is an Atmel AT25DF081A.
-The MIDI out transistor was wired in, but the 180 ohm resistor is pulling up the collector of the
transistor, as I had trouble with the way it is in my schematic. The MIDI out is to send on data
that is NOT on channel 6. It also sends special strobe (seq#7) Notes on Channel 12.(See Manual)
The program was changed in lots of ways as well:
-The PIC '74 SPI bus interface was dumped as I just couldn't get it to work after 4 days!
This meant a manual bit-banger for the EEPROM, which is fast enough and works great.
-The CDS cells were almost forgotten, so now act as a "no audio" light follower that works better!
-A secondary Kick drum sensor had to be added in the way of a secondary frequency counter that
detects the fall in frequency ( All kicks have it ) This is so low bass sounds don't trip it.

Revised Schematic: December 22nd 2012
ZIP File: USER MANUAL has a .FLP, bigger schematic, print board, and striplights.HEX
The .ASM file isn't in the zip as I'll have to remove the comments first!!
-Added an "Advanced Settings" into Patch 6, which also turn on/off fade mode. That's
all too complicated to explain here, look at USER MANUAL for more. To keep it short, the
Disco/Club cross-over BPM, Ambient min. Mic level, Kick Low-Cut, Beat Trigger Level, & Kick Drop
On/Off/More can be set in Patch 6. These are saved to EEPROM so no need to set on power-up!
-Patch 3 was redundant because of Patch 2, so became a live control called "Bar-Fly"... 'nuff said!
-Programming Sequences has also changed. The image to the right shows an example clip. Notice the
long pause after the first record pattern? This is because an erase cycle can take up to 12 seconds
although it usually takes 6 or 7. It doesn't really matter, but in hindsight, perhaps a SD card
would have better served the purpose. I used one in my "Sea-Song" project and it wasn't too bad
once I had it figured out. Oh well, maybe next time.
This EEPROM (8Mbit) can hold about 17 minutes of light sequences, which is enough for anything I could come up with. The Maximum number of sequences, though, is only 120 which is dictated
by the number of notes before C-10 (the end-sequence note). Using sequences in a song sure makes things easy! Just one note and colors, movement, flashing... wow!
This unit is everything I'd hoped for, and feels like a Christmas prezzie to me, from me! It does have a few minor bugs, and now I know the world didn't come to an end, I may as well fix them!
The .zip file USER MANUAL , which has all the needed files to do this thing, will be updated and posted here if I find anymore bugs. This light Strip was intended to be a backdrop,
but it is so bright, it can actually light up the stage (studio) quite nicely
I can't wait to post a video of it in action!!
Although they won't do it justice, Here's some photos until then....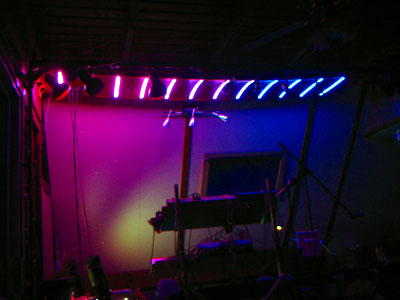 I hope you have enjoyed this crazy project as much as I have!! Time to move on to the next 2: the lightBar and the globeLight
Cheers!! Sandy*